ARX Security is based in the East Midlands manufacturing out of a 23,000 square foot facility and utilising the 3D CAD design and full fabrication assets and it is from here that the ARX Security range of fencing and HVM product has been developed.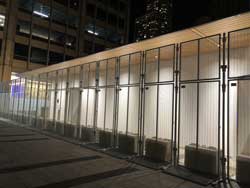 The ARX Fence system is a surface mount (but with the capability to be anchored if required), high security temporary fencing system which offers varying levels of added security which is fast to deploy and recover. The ARX fence system has recently been tested and accredited with LPS1175 certification at A1 (SR1) and B3 (SR2) levels which offers an attack delay of at least 1 minute of the standard panels and 3 minutes on the Super panels soon to also receive the SBD (Secured By Design) accreditation.
Designed to secure assets, critical infrastructure, and life it can also be used very easily for perimeter demarcation and security of major and minor events, concerts, festivals and sporting events amongst other uses.
Alongside the ARX Security Fence system, the company has designed a new HVM product called the ARX STOPPER! Now complete with a CPNI VADS rating and SBD accreditation, the ARX STOPPER! Will be put through PAS68/IWA14 testing later this year.
ARX Security are on Stands 31 & 34  – www.arxuk.co.uk