Heras will be exhibiting their array of perimeter protection products, ranging from high security to commercial needs as Heras aims to meet the increasingly complex and demanding security needs of businesses, industries and communities.
Noise reducing barrier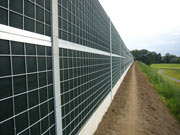 As part of Heras's commercial product line is the newly released noise reducer which will feature at our stand. It is an effective sound wall with high noise installation and absorption properties. The cleverly designed sandwich construction contains a layer of noise absorbent mineral wool, thin metal plate for extra noise insulation, all encased in a steel U-profile frame with galvanised steel wire-netting surround and HDPE windshield.
sGate
The high security entrance control product is sGate, a bi-fold gate solutions designed to provide safe entrance control in a multitude of environments and applications where space, speed, safety and security matter. The gate opens and closes within a matter of seconds, providing quick and controlled entry, as well as locking securely to prevent any unauthorised vehicle or pedestrian access. This is delivered by Heras' patented double driveshaft mechanism, which provides optimal force distribution from drive to gate leaf to ensure a very smooth and low wear operation and therefore minimal maintenance.
Zenith
Another featuring product at our stand is the Zenith high security fencing system, which offers a wide range of protection from vandalism to terrorist activity. This is due to a combination of the anti-climbing 358 mesh system, secure foundations and security toppings such as barbed wire. The Zenith has been rigorously tested by the Building Research Establishment to gain the necessary security ratings (SR) to meet industry standards.
Alpha Sensor Cable
Along this product features the Alpha sensor cable which is the microphonic sensor at the core of Heras's PIDS systems designed for enhanced perimeter security. Its magnetic construction has a number of key components/techniques to ensure very accurate intruder detection.
See us at stand 9 for more information on these products.