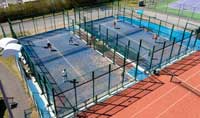 Manufacturer JB Corrie will be at Fencex in October eager to make the most of face-to-face connections offered by the show.
Fencex will be one of the first exhibitions back in this sector after more than 18 months.
'With the pandemic we, like others, have not been able to get out as we normally would, Fencex is a perfect opportunity to remind everyone we are still here,' said Damian Chambers of JB Corrie.
'We also have our new Padel Courts that are UK manufactured by us in Petersfield (pictured), hopefully with the right potential customers being at Fencex it will be great to discuss with them.
'We also have another new product that we may be bringing to launch at Fencex as well.'